President William Ruto speaks out strongly on debt and considers retirement savings to fund projects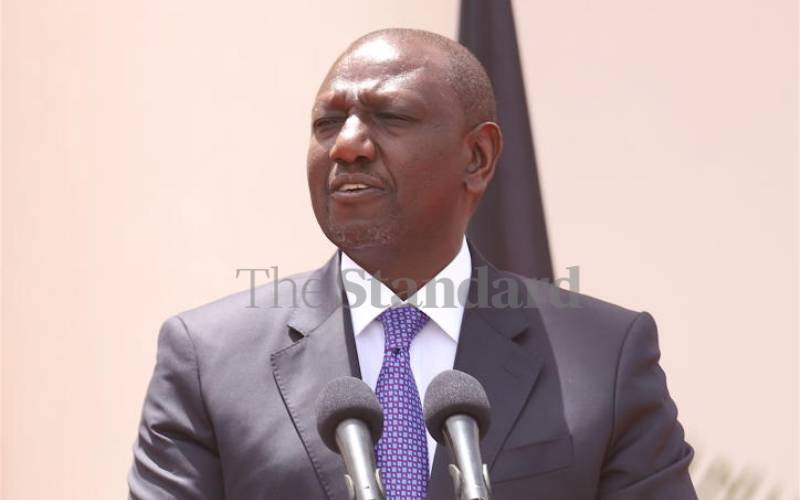 President William Ruto says his administration will avoid excessive borrowing even if he continues to appear in court pension funds for a slice of Kenyans' savings.
The president, in a bid to woo trustees and fund managers, has promised that remittances owed to them by government institutions will be settled within two years.
In return, the head of state expects pension plans to loosen their fists and agree to lend government money for his projects, but at an interest rate not exceeding 10%.
President Ruto, while addressing a stakeholder engagement for pension trustees and administrators held in Nairobi on Friday, said the government cannot afford to borrow at a two-tier rate. figures as has been done before.
"If we see that in the market we can't find 10% silver, we'll go back. It is not possible for us to borrow beyond 10%. This is unacceptable," President Ruto said at an event organized by the Association of Pension Trustees and Administrators of Kenya at the College of Insurance, Nairobi. "That's the direction we're going. I don't know if this is good news for you.
Dr Ruto reasoned with pension guardians saying he thinks none of them are willing for the government to continue borrowing in a way that is unsustainable.
Public debt
He said the country's borrowing now averaged 8 trillion shillings, with almost 60% of revenue collected by the tax authorities going to service loans. Public debt reached 8.7 trillion shillings in September this year according to Treasury data.
Indirectly, he castigated, with the previous administration saying his government will not take the same path. "I promise you that I will not be the president who continues our country's path of debt," he said.
Mr Ruto said the country's debt situation needed to be reviewed as he once again defended his office's directive to the National Treasury to extract 300 billion shillings from the current budget.
This directive, he noted, has led the government to slow down costly launches and overseas trips for officials.
"It's a tough choice, but I don't see an option. We will streamline the budget and see what else we can do," the president said. "It's not just a mission; it's not an easy thing to do. But I promise we will because it's the right thing to do.
Dr Ruto hinted that more austerity measures could be implemented, including the postponement of some projects. The President urged directors and administrators to make business decisions with patriotism at heart, knowing that this is their country too.
He rented the retirement plans, saying they have always been willing to support the government when it goes to the market for money. "I'm told that 47% of your retirement savings and plans are in government papers," he said.
Cash not delivered
President Ruto, however, also made no secret of the fact that pension schemes are sometimes reluctant to lend money to the government, considering that the state owes them millions of shillings in unpaid cash.
He said it helped the government end up with expensive loans. President Ruto said he is aware that parastatals, universities and public institutions owe money to these schemes and has set out a plan to make sure it gets paid.
"I want a framework that will ensure that we pay out all this money over the next two years," he said, adding that the National Treasury and the Department of Labor were looking into the matter.
The Head of State dangled the affordable housing projects and Kenya Road Board (KRB) 40 billion shillings average allocation to trustees as a sign of the government's readiness and willingness to work with the regimes of retirement.
He said retirees will benefit more if the programs are invested in the state's affordable housing projects rather than losing the savings in dodgy land deals.
"We have approximately 40 billion shillings at KRB's disposal each year which I can pay you, in complete safety. It's not part of the money I use to do other things," Ruto said. "He is dedicated and I want us to agree with you how I can pay you 40 billion shillings every year if you give me the money."